BASEMENT / Design Leader
Yoshio Fujiki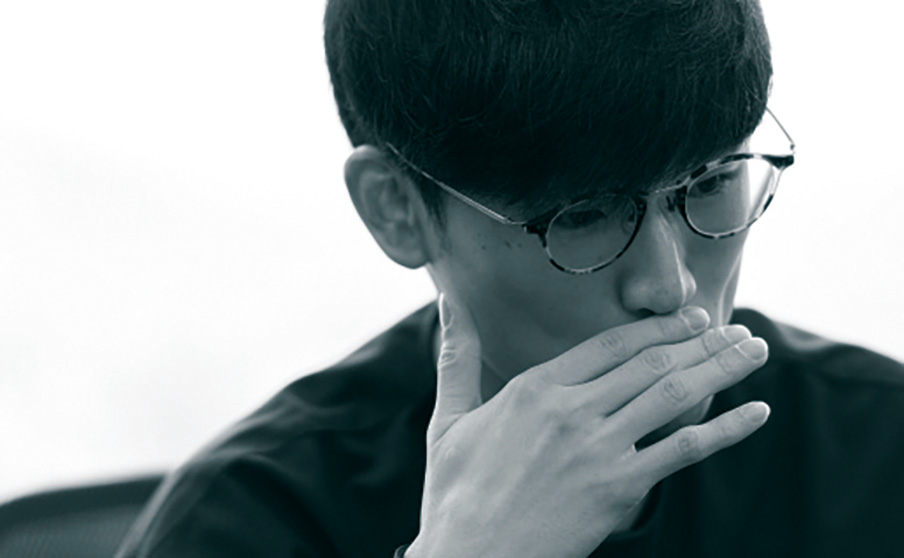 BASEMENT is a new manufacturing base established by KANEKO OPTICAL in 2019. Here, a young man is deep in training. Around him, the search is on for a new manufacturing model that fuses digital and analog methods. The job he's aiming for after training has never existed at before; he has no predecessors. 
Yoshitaka Fujiki is 28 years old. His current title is design leader in the manufacturing department. When he joined the company, he expected to become a designer. But while KANEKO OPTICAL has long had a team of draftsmen, there had never been a dedicated technical design post. Fujiki is now learning formal design practice, absorbing ideas about structure and theory, drilling cost concepts into his head while also working in production control, striving toward his future goal of becoming a product designer. Put another way, Fujiki is a multi-skill player in eyeglass manufacturing. This sort of human resource development is still in its infancy at Kaneko, and no one has ever held this position before. 

Japanese uses two words for design: "sekkei" and "dezain" (design). Broadly speaking they have the same meaning, but their roles in manufacturing are quite different. The main role of design is to "render and express" the beauty and uniqueness of a shape or the functionality of a product. On the other hand the sekkei work Fujiki performs includes converting design drawings into production data, turning this data into mechanical drawings, and examining and validating whether products can be manufactured from a structural standpoint. On top of that, Fujiki has the added job of production control, which means ordering components and monitoring deliveries so products ready for production can be smoothly handed off to the factory. It's been just over two years since Fujiki took charge of design and production control. Every day is chock full and he has so much to learn. "In my position, I meet all kinds of people every day, inside and outside the company, often hearing information I would never have known about machining technologies and manufacturing. This only happens because of the position I'm in -- it's a precious opportunity. I think it's very important for me to absorb this information and keep applying it to my work. Right now, each new thing I learn leads to another."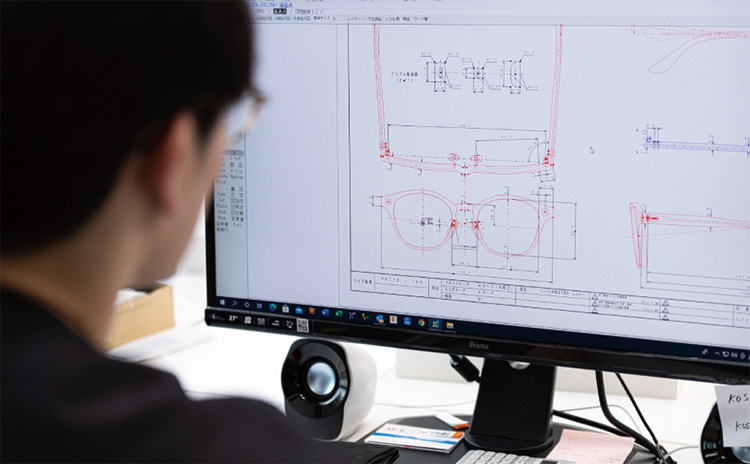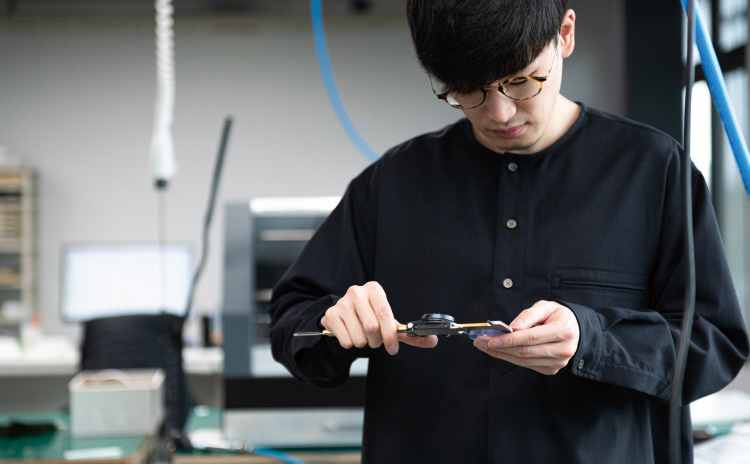 Started training to become a designer.
Fujiki is from Tateyama in Toyama Prefecture, a region with one of the highest snowfalls in Japan, well known for the Tateyama mountain range, the Kurobe dam, and a snow tunnel called the "Snow Corridor." Toyama is also one of the regions in Hokuriku (along the Japan Sea) where traditional crafts such as Etchu Seto-yaki pottery, Etchu washi paper making, and clay doll making flourish. Raised in this environment, Fujiki took an interest in industrial design and after highschool enrolled in Nagoya University of the Arts, where he majored in design, mostly focusing on product design. In class, he set up his own situations and drew concept designs to match them as a way of prototyping all manner of things. In four of college he acquired CAD drafting skills, and learned the joy of watching his ideas take shape in stages through manufacturing. After graduation, Fujiki wanted to put his education to use in the field of traditional Japanese crafts, so he applied for a job at KANEKO OPTICAL, which he knew was founded on the eyeglass-making tradition of Sabae City in Fukui. "I was looking for a company with an industrial orientation, but also involved in traditional craftsmanship, that I could feel a connection to. That's when I learned of KANEKO OPTICAL. "I quickly found one of their stores nearby, where I was surprised to see how varied their designs were. I decided to try for a job in the eyewear industry, where I could make a contribution through design." 

Fujiki joined KANEKO OPTICAL in 2017, intending to become a designer, but was instead assigned to the manufacturing frontline at the company's factory, BACKSTAGE. The company's intent was clear: "if you don't first find out how things work on the manufacturing floor, you'll just come up with self-absorbed designs and empty desktop exercises." By actually working with his hands at the factory, the company wanted Fujiki to deepen his knowledge of eyeglasses and ultimately gain a grasp of the entire manufacturing process. Fujiki accepted the company's plan and poured himself into the work, covering himself in frame shavings for three years.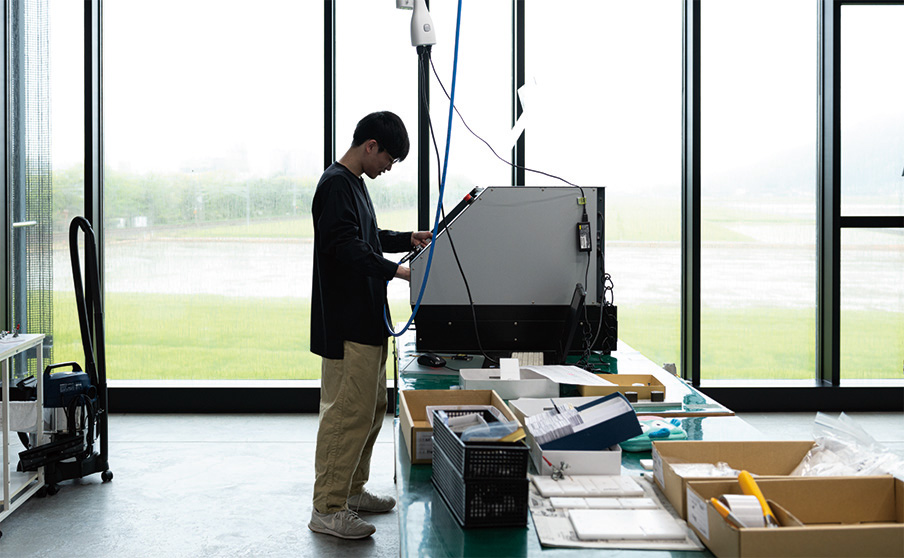 Aiming To Be a Multi-Skill Player
While Fujiki was struggling to make eyeglasses at the plastic materials factory, KANEKO OPTICAL had already begun a new initiative in manufacturing.
As Fujiki struggled to produce eyeglasses on the plastic frame manufacturing floor, a new approach to manufacturing was already taking shape at KANEKO OPTICAL. The company had begun producing its own metal frames at GLASSWORKS, a plant begun when the company took over the business of a metal frame manufacturer. This led to greater need for high precision design to produce metal frames and combination frames. Later, efforts to pass on the skills of journeyman craftsmen to future generations at BACKSTAGE, and to manufacture high-precision metal products started at GLASSWORKS, led to ideas for a KANEKO OPTICAL future factory reflecting the company's philosophy of "immutability and fashion," which resulted in the construction of its new manufacturing infrastructure facility, called BASEMENT. 
BACKSTAGE was also the site of Fujiki's next challenge. Though his first step at KANEKO OPTICAL was in manufacturing and not design as he'd hoped, this was a way he could build a deep foundation of knowledge so that he could reflect all his experience back into manufacturing. At BACKSTAGE, he had worked hard with his hands using analog technology. Now, in studying design so that he could understand structural aspects of eyeglasses, Fujiki began to make use of his original CAD and other digital skills, and moved his desk to the BASEMENT facility. 
Unlike designers, sekkeisha (industrial designers) need wide ranging knowledge and the ability to validate design, strength, and function with an underlying knowledge of manufacturing difficulties. Fujiki is there at meetings between the manufacturing department head and craftsmen from inside and outside the company. These experiences have driven home a thorough understanding of eyeglass manufacturing and eyeglass structures. Helped by the knowledge of others and by his own efforts, Fujiki began using CAD to draft design drawings on a daily basis. 

"Since joining Kaneko, I had seen nothing but the factory. So after a while I decided to travel to Nagoya to buy some glasses. When I saw them on the counter, I had to take a good long look. I have to say I was surprised. Even though I'd seen the glasses so many times on the manufacturing floor, they looked much more attractive than I'd imagined (laughs). I realized my mind had been so preoccupied with manufacturing issues that I hadn't really looked at the glasses we were making. In the store, they sparkled under the lights and were very beautiful. I finally felt I was doing a job I could enjoy." 

In the middle of training, with so much to absorb everyday, Fujiki's true feeling when asked about the future is, "that's the least of my worries," and he does have a lot to absorb every day. He has no choice but to plow forward, honing all the skills he needs for design, learning from craftspeople on the floor and from senior staff in every department. His goal is to be a "multi-skill player in eyeglass manufacturing." Fujiki will keep working hard until he reaches the top. 


PROFILE

Yoshitake Fujiki 

Yoshitake Fujiki was born in Tateyama, Toyama. After graduating from a local high school, Fujiki entered Nagoya University of the Arts to study industrial design. Hoping to apply product design knowledge gained in college to traditional Japanese crafts, he joined KANEKO OPTICAL upon graduation. There he was assigned to BACKSTAGE, the company's factory, where he was deeply involved in the manufacturing of eyeglasses for 3 years. He then moved to the company's BASEMENT factory, newly opened in 2019. He currently has the title of design leader, and has responsibility for both design and production control.